Support
Support Links For Our Parents
This page contains links that may be useful for parents when in need of help or advice. If you can't find what you need here, please do not hesitate to contact us and we will help as best we can.
Information regarding support available for the current cost of living rises can be found here:
Top tips and help with routines can be found here.
Information regarding Family Hubs support for parents and their families can be found here.
Support with keeping your child safe on the internet can be found here.
School Nurse Services
The School Nurse Team are here to listen to and support children and young people. 
Children, young people, parents, carers and school staff can contact a school nurse by calling the duty line 01273 696011 Ext.1692 (Monday – Friday 9-5pm)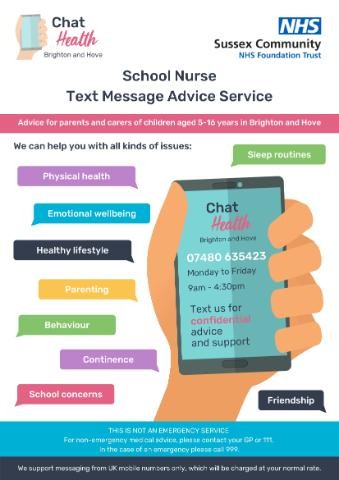 ChatHealth (textline) is available for young people and parents/carers of primary children on 07480 635423 (9-4.30pm Monday to Friday).
General Support and Self Referral
Support with Food
Support with Budgeting and Debt
Support with Parenting and Behaviour
Support with Cyber Safety
Healthy Lives
Happy Family Healthy & Tasty Summer Meals 
Support for Children's Mental Health
Support with Special Educational Needs and Disabilities (SEND)
 LGBTQ+ Support
Support with Adult Mental Health and Wellbeing
Support with Domestic Abuse
Support with Adult Substance and/or Alcohol Misuse
Support with Bereavement
Parent Support Groups and Information
Separation and Co-Parenting