History

We tell stories, we role play and we bring History to life at Mile Oak Primary School!
We are eager and excited to explore the past. We grasp the changes within and beyond living memory. We discover significant events in History – the why, the when, the how, the where and the who.  We delve into the lives of significant individuals in History – their motives, their qualities, their achievements. We seek to understand how History has shaped the world in which we live in, and we ponder around what the world is yet to be. We do more than just listen and accept; using our skills as historians, we observe, we analyse, we think critically, and we question. We have time to reflect, and we develop our own stance and opinions. At Mile Oak we THINK BIG.
History Across the School
See below for overviews of the History taught in each Year group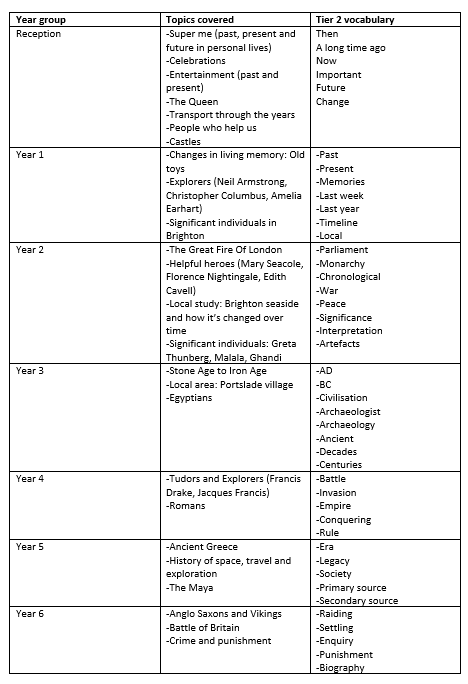 Below is an overview of the key topics and vocabulary covered in EYFS and KS1 at Mile Oak.
Year group

Topics Covered

Tier 2 Vocabulary

Reception

Super Me (past, present and future in personal lives)
Let's celebrate (Guy Fawkes, Christmas, Diwali)

then

a long time ago

now

important

future

change

Year 1

Changes in living memory: Old toys
Significant lives (Explorers): Neil Armstrong, Christopher Columbus, Emelia Earhart.
Significant people and places: Brighton Pavilion

present

past

memories

last week

last year

timeline

local

Year 2

Great Fire of London
Mary Seacole/Florence Nightingale
Local study: Brighton seaside change over time

parliament

monarchy

chronological

war

peace

significance  

interpretation

artefacts
Below is an overview of the key topics and vocabulary covered in KS2 at Mile Oak.
Year group
Topics Covered
Tier 2 Vocabulary
Year 3

Local Study: Portslade Village and Mile Oak in the past
The Ancient Egyptians
Stone Age to the Iron Age

AD/BC

civilisation

archaeology/archaeologist

ancient

decades

centuries

Year 4

Romans
15th century Explorers (Ernest Shackleton)

battle

invasion

empire

conquering

rule

Year 5

Mayans
Ancient Greece
Local Study: Historical Brighton

era

legacy

society

primary source

secondary source

Year 6

Anglo Saxons and Vikings
Battle of Britain
Crime and Punishment

raiding

settling

enquiry

punishment

biography
What skills do we need to be a historian?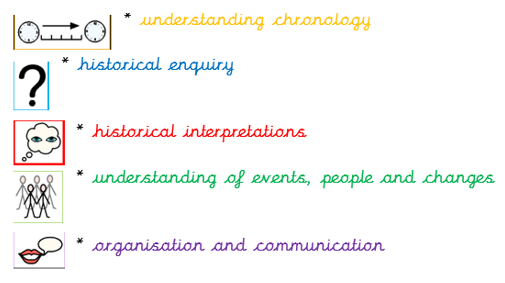 Queries
The school's History Leader is Miss Murray. 
If you have any questions about the school's History curriculum, contact your child's class teacher or Miss Murry via the school office.