Governors
Our Governing Body
The Governing Body is the strategic leader of the school. It has a vital role to play in making sure every child gets the best possible education, and focuses on three core functions: 
Ensuring clarity of vision, ethos and strategic direction; 
Holding the headteacher to account for the educational performance of the school and its pupils, and the performance management of staff;
Overseeing the financial performance of the school and making sure its money is well spent. 
If you are interested in becoming a school governor, please contact Sara Hinchliffe, Clerk to the Governors for more information: sarahinchliffe@mileoak.brighton-hove.sch.uk
We currently have governor vacancies and would love to hear from members of the community interested in joining our board. Find out more about becoming a school governor in Brighton and Hove from these short videos:

https://www.brighton-hove.gov.uk/news/2023/new-drive-recruit-school-governors-begins-today
The structure of the Governing Body
Although there may be some vacancies from time to time, Mile Oak's Governing Body consists of:
2 elected Parent Governors
1 Local Authority Governor
1 elected Staff Governor
1 Headteacher Staff Governor
7 Co-opted Governors
Some work is carried out by committees, which report to the full Governing Body. Each committee is made up of a selection of governors rather than the full group. The committees include:
The Teaching and Learning Committee
The Business Committee
I have been a governor at Mile Oak Primary since September 2017. I was a Director of Portslade Aldridge Community Academy Trust and then Chair of Governors from September 2011 until August 2018.
I was a teacher of secondary age pupils in English and Drama and have worked as Director of Children's Services (Education and Social Care) in various local authorities. I am committed to working with everyone in the school community to ensure that all children have opportunities to enjoy and achieve their very best.
I live in Shoreham-by-Sea and organise Shoreham Wordfest, an annual autumn festival of books, drama and children's events. I am also in a retro rock band called OldPlay.
I have been a governor at Mile Oak Primary since 2019. I am a member of the teaching and learning committee and have a special interest in ensuring the right support is available for children with special educational needs and disabilities.
I was a teacher for many years, working with children with a wide range of special needs in both mainstream education and specialist schools.
I am very pleased to be playing a part within the school to ensure all children have the best opportunities to develop to their full potential.
I have been a Governor at Mile Oak primary school since September 2021.
I worked as a teacher, specialising in the Early Years, until my semi-retirement in 2010. Since then, I have worked for Brighton University as a University Tutor, supporting students on teacher training courses (BA and PGCE). Most recently I have been supporting EYTS (Early Years Teacher Status) students who work full time in nurseries and pre-school settings alongside their studies. I have three Grandsons one at primary school in Hove and two at PACA. My Granddaughter is in Year 2 at Mile Oak school.
I look forward to continuing to work with the school in supporting every child to reach their full potential. I am a member of the Teaching and Learning committee and chair of the Nursery committee
I joined the Governing team supporting Mile Oak as a Co-opted Governor in September 21, following my daughter joining reception.
I have worked in financial services for the past 15 years performing a wide range of roles supporting the operational side of the business. My current role as Business Continuity and Crisis Manager sits in the Resilience space, ensuring the continuity of the organisation in the event of incidents, emergencies and crises. Other roles have included training and development, onboarding, budgeting, data analytics and complaints management. In my governing role I am a member of the Business Committee.
Since my daughter joined the school, I have been overwhelmed by her progress and development.
The commitment and passion from the Leadership Team and staff shines through and I am looking forward to supporting their vision for the school and its pupils.
I have been a member of the governance team since September 2021.
I have worked in pharmaceutical industry for the last 16 years, currently liaising with various health authorities and leading a number of muti-departmental projects. Primarily ensuring that all the required guidance is fulfilled by developing long term strategies.
I have a son in year 5 and a daughter in Year 2, I'm pleased to be a part of the governance team, providing support to the school and pupils. I am part of the business committee.
I am the clerk to governors and support the governing team with their meetings. I also deal with correspondence with from the community to the governing body. I am a school governor myself and enjoy the opportunity to support my local school.
I have been in financial services for over 45 years and in 1983 was promoted to Brighton to run the life assurance branch for Aviva. Sadly the branch closed, but I loved living in Brighton, so became a financial adviser, which I still am. I am married and have two daughters, aged 21 and 18. I have been a keen (slow) runner for many years and have run 9 marathons.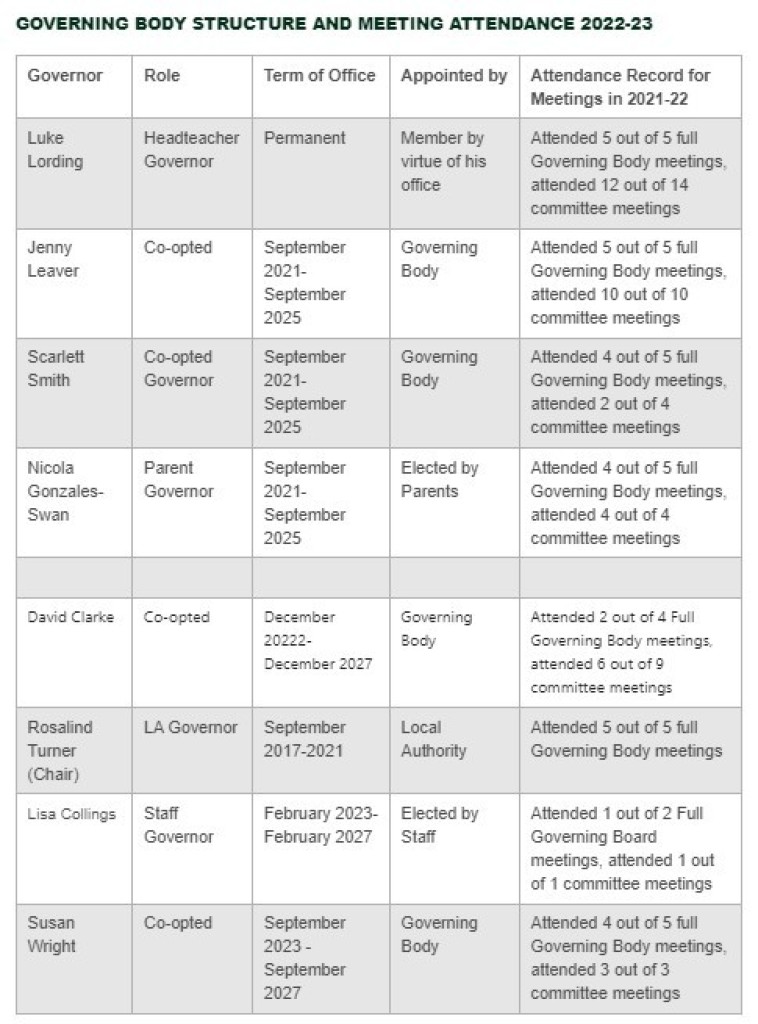 Below are the Governors who have left the committee in the past 12 months.